While the kitchen is missing, everything from it is jammed elsewhere and the whole house feels more chaotic than usual. From what I have heard this is to be expected. B came by for the week of my break, which added another level of distraction. We went to see Blithe Spirit at the National (he's an Angela Lansbury fan) and he left his favorite scarf behind. I was in the area a couple of days later and was able to retrieve it from their lost-and-found. Here it is celebrating the most cherry blossom-like thing we could find on Sunday. It was B's last day of the visit and the first day of the official cherry blossom festival season; finding anything pink on a branch was not easy.
I also ran that half-marathon last Saturday, but it was kind of cold and wet and windy. And my timing chip was busted! Fortunately my watch worked, so I know it took me 3:11, which is slow but I was just trying to beat 4mph and I did. So there. Also we knew it was going to rain so I googled for rainy run tips and learned that we should wear hats. That was superb advice.
V's chip worked, thank goodness, because she finished in 2:12. We were all pretty impressed.
It wasn't awful, it wasn't productive, it wasn't long enough... the usual. The previous week my brother-in-law had removed my kitchen (this was pre-arranged, nothing but the start date was a surprise) and during the break we got a new floor.
and the ground was slushy/slippery in spots (the break you see in the map is the Starbucks where we stopped to let my toes thaw) but the distance was no problem.
I'm sure we're ready. V hasn't trained at all and I have no doubt she'll finish ahead of J and me.
The next day was sunny and warm. Really warm! It was the perfect day for an alleycat. I know you know what an alleycat is but I will explain for those other people: it's a bike race/scavenger hunt through a city. This one was organized to celebrate International Women's Day so most of the checkpoints had something to do with this theme, which was an additional element of fun. We were dilettante competitors but we hit a few checkpoints and enjoyed the day. V wasn't happy when she learned we'd be riding on streets; however, she did really well and I think it was a good intro for her.
Everything else has just been school stuff. It's been fun, but I'm ready to be done.
I haven't been very chatty online but I have some time on my hands right now (SPRING BREAK!) so I will try to catch up a little. V, J, and I are signed up for a half-marathon tomorrow so 2/3 of us have been following a rigorously researched (Google I'm-feeling-lucky) training plan for the past few months. Last Saturday was our longest run in preparation for the event. The air was brisk
Measure distance. Very handy! Here's what happened: I was talking to the man upstairs, who mentioned that a friend was running a Disney half-marathon the next day and might (turns out she did) simultaneously see a rocket launch. Talk turned to half-marathons and I (probably) convinced him that he could run one by the end of the year. Or so. Pretty sure that's what happened.

New day, same guy. He asks if I've heard of a brewing company that is super super close to my house. I had not, but Google had. I had time to kill (it's still Winter Break for another week) so I strolled on up and danged if they weren't serving samples. The very nice bartender grew up in Pickerington (read: Columbus, OH) so we had something to talk about and then she started talking about the Rock and Roll Half in DC because her dad comes in to watch her run it. The story was more interesting than that, really, but this is about me sooo... I came home and Googled again. The R&R.5 takes place the first day of Spring Break. I mean, if the universe (that is, a dude and a bartender) keeps mentioning half-marathons it must mean I'm supposed to try one. Plus V and J agreed to come along.

More Googling and I found a nice nine-week training schedule and today I needed to run two miles, which I guessed at but I wasn't far off—I checked the route just now with right-click-Measure distance.
I don't know how long this has been available, I just noticed it today (on Chrome, I haven't tried anything else). Right-click wherever you want to start measuring and select


I've had a terrible time updating and I'm sure it's because I can't distill the thousand fabulous things that happen to me into coherent posts so I just let them trail behind me, an undocumented wake of quips and tumbles and trips and exhilarations. Also snacks. I'm not even going to try. I'll just do one thing, and it probably won't be the most interesting or best or worst thing of the day or week or month. Just whatever falls onto the screen. At least I'll have something to review later, I like that about lj.
I applied for graduation. It was easy, a couple of emailed forms and you're done. Then I had to say whether I would attend the college's reception and I agonized over this for, well, minutes. But a bunch of minutes. I have no intention of going to the University graduation, but skipping the college one seems kind of rude (maybe an excuse will present itself later). And then I had to say how many guests, but it's in the middle of a weekday so I said "one" thinking maybe someone would be around or maybe I'd just eat enough Dining Services spanikopita for two.
There was a rotten snarkpiece in the Washington Post at the beginning of the Africa Leaders Summit last month, a really dumb review of Chantal Biya's hair. If anyone at WaPo is wondering why I let my subscription lapse, that article will be among the reasons: it was pointless fluff about an otherwise interesting character. I learned a lot about her from her Wikipedia page before it was edited, but if you go there now you can still read a very mild account of the Bertrand Teyou "incident". Teyou wrote a biography of Biya and was jailed for it.
I wanted to read that book. It was never officially banned, but most of the copies were destroyed. WorldCat shows only two: one in the Netherlands, one in the Library of Congress. It wouldn't be too difficult to wander over to the LoC, but I sent an interlibrary loan request and what do you know? They delivered—during Banned Book Week, no less. It'll take me a while to get through it; it's short, but I'm up to my ears in work and school and, er, social commitments through Sunday.
Sandy Spring Adventure Park
. V went there for a party a few weeks ago; when I picked her up afterward and asked how she liked it she said, "I thought I was going to die! It was terrifying! You should try it!" Since it's minutes from where she has a lesson every Saturday, it seemed like we could easily make that happen.
Then B was in town this weekend so we brought him along. And fearless J was available, so she joined us there. They all had a great time. I was delighted to finish without breaking anything beyond a few capillaries. While I was on the courses (you can do as many as you like in a three-hour window—we could only fit three in that time) I was indeed terrified, except for the last few zip lines. I did learn to love the zip lines. I'm pretty sure I will never learn to love the little tray that slides along two cables twenty feet above the surface of the earth, slides along and deposits you ingloriously a yard short of the platform. In my dreams I have destroyed you a hundred hideous ways, little tray. I have successfully transferred my hatred to the little tray, where it is better centered than on the trio of tweens chirping encouraging suggestions from the platform behind me as I dragged my supine bulk that final mile using only the inside bendy parts of my knees and elbows.
I would definitely do it again. Also, I think we should have more zip lines everywhere.
It wouldn't be nifty waking up to newly-green and black and purple pain blossoms unless they reminded you of the afternoon you spent scrambling through the trees at
Many bikes rides are good, and all good bike rides are nifty. So I will talk about one representative good bike ride, which happened to take place yesterday. J and I had planned to ride the Reston metric century to prepare for J's upcoming first century. Then B said he'd be in town and would be interested in riding as well. Of course he was leaving that afternoon so we'd have to hustle, but it was the short ride so no problem. And J's bike rack only holds two bikes but I just bought a folding bike from the glorious pages of Craigslist so, again, no problem. And the weather was beautiful. And everyone had fun. And I sorta figured out the Brompton gearing, which came in handy when the hills popped up. And a bunch of riders who saw me tootling along on my tiny wheels assumed I was a tough rider and said so as they passed—and they did pass, EVERYONE did, because I am slow. Slow but so, so happy! We had a leisurely outing in gorgeous weather and finished with just enough time to get B showered and to the airport. No problems all day long, it was fantastic.
| | |
| --- | --- |
| | On Monday our class was looking at a bunch of old prints to try to see the difference between etchings and engravings. This one (Italian engraving c.1650) got my attention because the foremost guy with a shovel is wearing my shoes. |
I discovered unstructured shoes a while back after reading
Born to Run: A Hidden Tribe, Superathletes, and the Greatest Race the World Has Never Seen
and I haven't worn anything with arch support since. My feet are flat, flat, flat so it was a relief to lose the lumpy soles. The only problem I find is that the shoes I wear now, while great for walking (I walk a lot) and running (I run a little), are not too wonderful for biking. I have real bike shoes, which are made to keep your foot attached to the pedal. They are crummy for walking. I kept a pair of my old running shoes for when I need to both bike and walk. They are not perfect for either activity, but when I'm wearing them I'm usually going someplace fun enough to take my mind off my feet.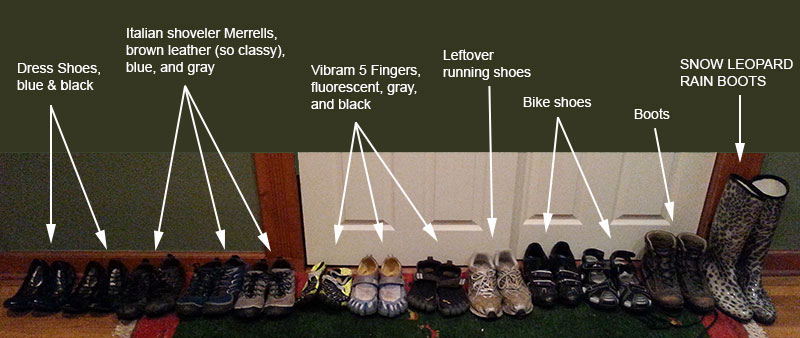 I do have two fancy pairs of shoes, a brown pair and a black pair. They are not comfortable at all and I've not worn them in public. Ever. When I need fancy shoes, though, I won't have to worry because I know they're in my closet.
The funny thing is the print. In class we were paying attention to the quality of the lines so we could determine how the picture was printed. I got distracted by some footwear and took a photo to share with you. I didn't think too much about the subject of the print, but I had a vague impression that some supervisors were instructing some gardeners—until I looked at the scene behind them. That is some rough yardwork.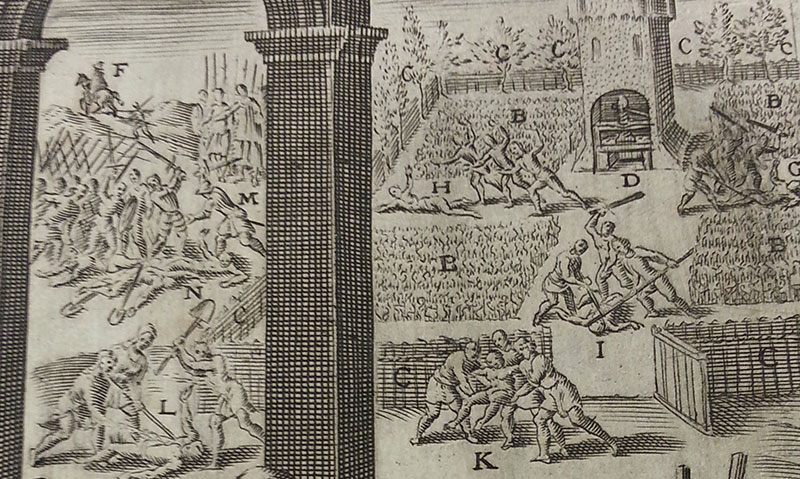 We loaded all our stuff into the van and then sat in the lot for a few long minutes while B looked fruitlessly for reverse. C took over and he remained our driver for about 90% of the trip. He was great! Not to say I wasn't nail-bitingly anxious every minute on the road... We also borrowed a Garmin with the van, which was an enormous help. We drove west on Garmin's directions until we got close to the house, then I had the owner's emailed instructions to find the cottage her great-grandfather had built himself. I thought this would be a cool contrast to our previous place.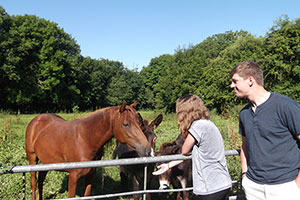 It had the best donkeys and pony, that's for sure. When we got inside I realized that I hadn't asked about internet access, though, and V sort of freaked out. There was none. We chatted a little with a guy who was just finishing up a painting job around the back of the house. The flies were killing him. They were some brutal flies. We dropped our bags there and headed back the way we had come.
An hour and a half later we were in Tullamore. A bartender had told B and me about an epic hurling match the week prior—so epic, it seems, that they had decided to repeat it. As we approached O'Connor Park we noticed cars parked along the side of the road, so we did likewise and hoofed it for what seemed like at least a mile. At the stadium we learned that the game was sold out. Oh well, at least we tried, toodle-oo... anyone who knows me knows I am never too sad about missing a sporting event. But no.
From the helpful crowd milling about the closed stadium we learned that it was customary to open the doors at halftime to let everyone waiting in for free. Maybe because the crowd waiting was so big, or maybe because they just felt like it, the powers that were actually let us in well before halftime, about 20 minutes into the game. We watched Kilkenny beat Galway (I took a picture of the scoreboard too soon. Kilkenny got one more point before the game ended.), or the better part of the crowd did while I watched the crowd.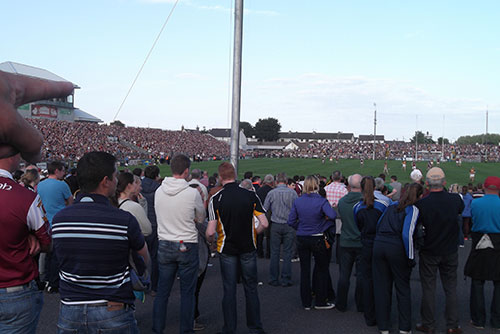 We trekked back to our car and went into Tullamore to look for a grocery store. The grocery store was closed but we did find a video store (!) so V shopped for a movie to watch to compensate for her lack of wifi. She found
The Devil Wears Prada
and, more importantly, a Five Seconds of Summer CD that is not yet available in the US. With an exponentially happier V we crossed the road to The Captain's House restaurant.
This place was so nice! I liked it right away because I got to sit next to a big aquarium, and then I liked it even more when everyone's food was excellent. We had come in late but no one seemed to be rushing us out the door (We would discover as we traveled that no one would bring a check to your table before you asked for it. Is that an Ireland thing?) and we had a fun dinner before the long drive back to the cottage.
We had a sweet apartment in Dublin situated between Fishamble Street and Cow's Lane, street names so awesome I could not choose one over the other. Fortunately, no one asked me to. We had walked everywhere during our stay in the city, but for the rest of the trip I had rented a car so a cab came to take us back to the airport to get it. Our driver, Keith, was another fantastic well of stories. And expletives. I had reserved a car but Keith warned us not to bother with the PoS Picasso. He said we wanted the Ford Galaxy. Sure enough, those were our minivan choices on the lot.
Life Itself. Unlike the title, the movie was a tad too long but I liked hearing RE describe movies as "machines for creating empathy." I get that, though I think it can be expanded to stories altogether. Maybe they help keep the herd assembled. They're definitely one of my favorite aspects of being human. On vacation we were very lucky to run into a lot of great storytellers. Some were deliberate, like the team running our literary pub crawl in Dublin and the kid giving "free" tours of Galway. Most were extemporaneous, like the Caherlistane house caretaker's explanation of satellite reception and the horse guy's hundred (at least) things. They made the vacation pretty fabulous.

PS - I am still committed to listing a hundred nifty things; however, the one-a-day part got away from me. I'll try to post doubles or better until I'm caught up.
B and I saw the movie about Roger Ebert,